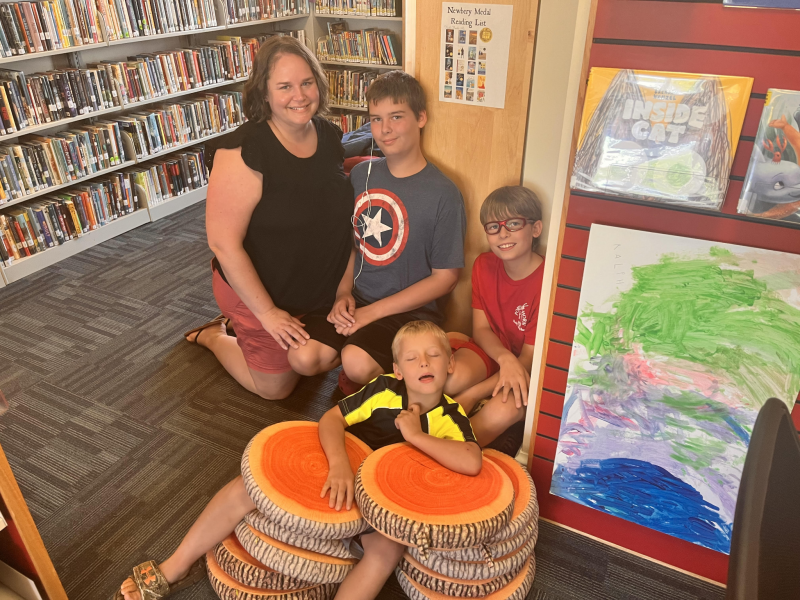 The Hyson family scrupulously uses the library
Friday afternoon, Jennifer Hyson and her three sons joined me at club headquarters after school (aka the upstairs community room). Jennifer, 41, grew up in Boothbay and her first memories of visiting the library were marked by a sense of independence.
"I must have been around 8 years old because I remember I was at that age where I had my own library card and I could put out my own books. I really enjoyed that, being able to have my own card and feel like a big kid," she laughs. I ask about her favorite childhood book and after a pause she says "The Purple Crayon". Miles sits up "Oh, I love the pencil book!" and Eli echoes "Yes! I love this book!" Jennifer looks at the title of the book because Miles reminds her "There are a lot of pencil books". "Harold and the purple pencil," she confirms.
Jennifer is a speech therapist in the AOS 98 school system and enjoys gardening, crosswords, cooking – especially baking – and reading. She visits BHML to consult books for the pleasure of reading: "I like to have something that I read just for pleasure. I use [BHML's collection], but I really like the interlibrary loan option – having all these books – if there's one I want and it's not available here and I know I can get it. Hyson has dabbled in e-books and audiobooks, but mostly sticks to a good old-fashioned book as a welcome break from screens.
Jennifer has always brought her family to the library. "I don't remember not bringing them to the library!" I remember coming to DIY. We would – we still do – story time at the Farmers Market. We go to the Farmers Market and buy something and then sit and listen to the story… We did Chalk On the Hill when they had the Fishermen's Festival… and when you have special events, like I remember thinking I was crazy when we came to a reptile program, because I don't like snakes…and there were snakes! The kids loved it, but I was like "I don't know why I'm going!" Jennifer laughs. "I did fine," and her youngest son Eli confirms, "You didn't pass out, you didn't pass out."
I asked the boys about their earliest memories of coming to the library. Cole, 13, says: "I just remember coming by often and always having to find a new series to read, because I burn through them so quickly. I also remember finding that I needed – if it was a shorter book – I would have to take four home because I had finished them in a few weeks before I could come back. Cole reads a lot of sci-fi and fantasy, and adds "I've always liked books that have movies or shows because I watch the show and read the book and then I can get mad at the show or the movie because they didn't. I have my favorite detail.
Miles, 11, remembers old summer reading challenges. "I remember going out and hugging a tree for one of the challenges, it was kind of weird, but it was kind of fun. And I remember when I won a prize, it was really exciting Miles loves arts and crafts and is a regular at the Drop-In Chess Club.
When I turn to Eli to ask about an early memory, he quickly replies, "I'm only eight! We all laugh. Fair enough. So let's move on to the books. Eli shares that he loves the Elephant and Piggie series; and he particularly approves of the author's use of onomatopoeia. As for where this crew likes to read a good book: Eli likes to read in the car, Miles likes to lounge and read in front of the air conditioner when it's hot, and Cole shares that he used to read a lot in the closet, to which Eli exclaims "In your closet?!" Cole now likes to read in bed and tries to put the book down before going to sleep, as he has already woken up with a book on his head.
About the library, Jennifer says, "It's an untapped resource for a lot of people that we're lucky to have. I love interlibrary loan, but there's so much beyond that. Eli loved the LEGO Club before it ended, which has nothing to do with reading; most people think of the library as just getting books. There is something for the kids to do after school. Miles likes the chess club; neither of us play chess at home, so it gives him the opportunity to develop his skills and meet new people… There aren't many places where everyone's needs can be met. We all come, and we all find our books at different levels, and activities for our different interests. It's so much more than people think. Jennifer adds, "The other thing is I'm sure not all libraries are like this, but kudos to the staff, because I feel like it's like a family, an extension of your family. . When Miles was really interested in these history books, they looked into them and decided to get them because we were taking them off interlibrary loan so much; therefore the receptivity to listen to children's thoughts and needs, and what interests them, and to greet them when they arrive; this makes them super comfortable.
When I asked the Hysons if they would like to live in a community without a library, the boys all looked shocked and appalled, "No." "Nope!" With a shaking head, Miles laments dramatically: "Chess club! What would I do? I could hardly have known how to play! Or become the chess player I am now or be able to teach Uncle Trent…"