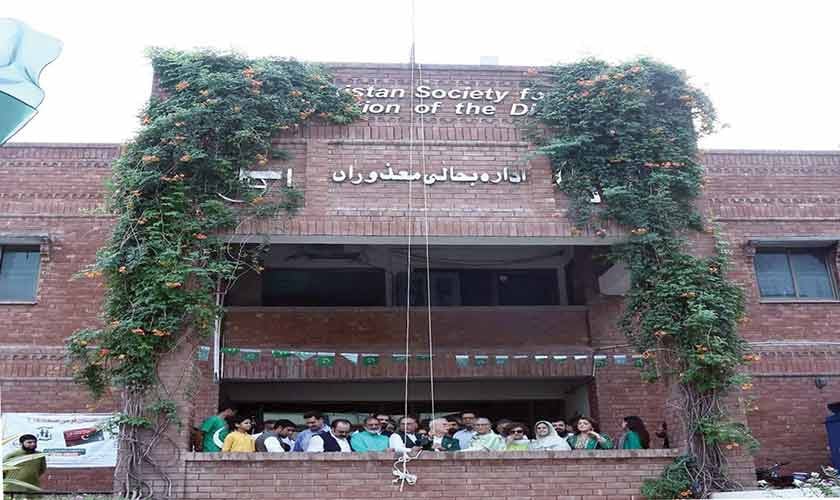 Give love and light | Shehr
mina*, 25, joined the Pakistan Society for the Rehabilitation of Persons with Disabilities (PSRD) at the age of five. She came from a poor family and suffered at the time from a walking disability due to poliomyelitis. After an initial assessment of her financial situation, Amina was admitted to the school. The administration provided him with a free pick up facility as per their policy for all students. She graduated from high school ten years ago and completed basic computer training at the PSRD Computer Center. Amina was eventually offered a job with a private sector company. Now married, mother of a one-year-old boy, she lives comfortably with her husband. She says she doesn't want publicity for herself. However, she wants the world to know her story to pay tribute to the institution that facilitated her rehabilitation and gave her the opportunity to excel in life. She says there are many cases of extremely poor and physically handicapped people who are well receiving assistance from the PSRD.
Dr. Numan Zakaria, Administrator of the PSRD Hospital, explains that physical disability can result from a birth defect, injury or disease. It can also be due to exposure to viruses like poliomyelitis. He says people with disabilities often remain outside the mainstream of the economy, mainly because of their restricted mobility. "They can perform many tasks if their mobility is improved through surgery and physiotherapy. They can also receive vocational training so that instead of becoming a burden on society, they can contribute their share to the family income.
This orthopedic hospital treats all patients without any discrimination. Of the 1,920 surgeries performed in 2020-21, 470 were major; 387 medium; and 1,063 minors. There were 434 free surgeries, including 132 major surgeries. 1,438 surgeries were subsidized. Only two patients could afford and had to pay the full cost of treatment.
The hospital's physiotherapy center is well equipped with modern gadgets. It is led by qualified physiotherapists. They offer the best treatment to patients and schoolchildren suffering from different musculoskeletal and neurological impairments, traumas and other postoperative conditions. The center is accessible to all students of the PSRD school. Category E students benefit from free services.
The orthotics and prosthetics center manufactured and delivered 3,630 devices, including upper and lower limb prostheses, splints and braces, and orthopedic shoes. Silicone articles, hyperextensions and lumbosacral corsets are also provided to patients.
Occupational therapy and speech therapy play a key role in the rehabilitation of people with disabilities. School-based occupational therapy at PSRD School involves therapists who provide assessment and therapy in classrooms, producing orthotics and adaptive equipment for patients. An inclusive adaptive bathroom provides toilet training for patients.
Student assessment and screening is done by expert speech therapists. Modification of speaking session rooms is undertaken in accordance with therapy protocols.
According to a recent World Bank report, approximately one billion people worldwide suffer from various disabilities. This represents nearly 15% of the world's population. The report states that people with disabilities are more likely to experience adverse socio-economic outcomes such as less education, poorer health outcomes, lower levels of employment and higher poverty rates. Poverty can increase the risk of disability through malnutrition, insufficient access to education and health care, unsafe working conditions, a polluted environment, and lack of access to clean water and sanitation. sanitation. Disability can also increase the risk of poverty, due to lack of employment and education opportunities, lower wages and higher cost of living with a disability.
The pride of the PSRD is its school. Children are taught to believe in themselves. The school provides free education, free books, transportation, uniform, and nutrition to all of its students.
Disability statistics in Pakistan are murky. In the 1998 population census, people with disabilities represented 2.49% of the total population. The Sixth Population Census held in 2017 estimated that only 0.48% of the country's population was disabled, far less than in the 1998 census. How this decline in disability occurred remains unexplained. .
The National Database and Registration Authority, based on its CNIC data, reports that the number of disabled people in Pakistan is 371,833, of whom 31,914 are mentally ill. But if we calculate the disability based on the 2017 census, the number of people with disabilities is about 1.1 million, which is almost three times higher than the NADRA record. Some social work institutions claim that at least seven million people with disabilities (PWD) are forced to stay at home as they do not have access to wheelchairs in Pakistan. This figure is even higher than the disability statistics from the 1998 census.
The PSRD is perhaps the only institution that offers a comprehensive solution to the problems faced by a physically disabled person in a complex. It runs an orthopedic hospital with about 100 beds where medical specialists perform minor and complicated surgeries. After assessing their socio-economic status, a patient is classified into one of five categories. Category A patients can pay all fees, and category E enjoys free hospital treatment, free schooling (if the patient is a child), free physiotherapy, training vocational training and free computer courses.
Madiha Maqsood, head of speech therapy at the PSRD cites the example of Mohammad, a three-and-a-half-year-old child who came to speech therapy. He was diagnosed with expressive language delay with echolalia. Intensive speech therapy was recommended to him because he was unable to express his wants and needs through language. Two speech therapy sessions per week were designed. Vocabulary enhancement techniques were used. Gradually he was able to use expressive language. Now he is able to make sentences and speak fluently. It can also track complex orders and make requests and comments. Speech therapy had 85% accurate results.
The PSRD has brought about a significant change in the lives of many disadvantaged women and children in the village through community-based rehabilitation. CBR staff, since 1993, have been conducting regular surveys in several villages, raising awareness about cleanliness and medical rehabilitation, providing clinical physiotherapy, coordinating case studies on their patients' problems, and arranging wheelchairs or d other devices for patients.
The PSRD has its own Vocational Rehabilitation Centre, which provides interest-free micro-loans to deserving adults with disabilities to start their own businesses. Since the start of the program, Rs 26.5 million loans have been disbursed to 965 people. The recovery rate was 98.64%.
Muhammad Murad, a 25-year-old resident of Mughalpura, Lahore, was physically disabled, needed a walker to get around and had to support four family members. He had faced this situation since birth. However, he was determined to do something for himself and not become dependent on anyone. He passed his intermediate exams and obtained a diploma in cell phone repair. However, he only earned Rs 10,000 per month which was not enough to make ends meet.
Luckily, he heard about the PSRD loan program and went to their vocational rehabilitation center to apply for a loan to open his own shop. After the necessary documentation and verification, he got a loan of Rs 50,000. He is now earning about Rs 30,000 per month and repaying the loan.
The company also houses a skills development center and a vocational training center, in addition to a state-of-the-art IT training center. These train patients according to their individual abilities to integrate them into the economic mainstream.
The pride of the PSRD is its school. Children learn to believe in themselves. The school provides free education, free books, transportation, uniform, and nutrition to all of its students. The success rate of the school's students at enrollment remains high. Last year, the pass rate was 94%. Lately, PSRD launched its College of Rehabilitation Sciences to produce quality human resources for the rehabilitation of persons with disabilities.
*Name has been changed to protect identity.
---
The author is a leading economic journalist